Top posting users this week

REDFORD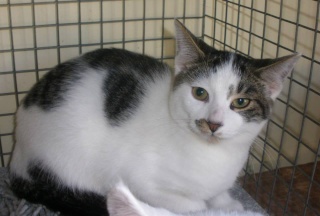 You should be able to tell, just from his name, that Redford is something special. Redford, Rip, Richard and Ranger ( the last two have been adopted), along with two younger kittens Rory (adopted) and Ripley were found in a cardboard box at our back door, September 20, 2013. The four older kittens have an approximate birth date of April 15, 2013 and the younger two, two months later. Redford is a tabby and white boy with incredibly soft fur. He is outgoing, super friendly and loves to be petted. Redford is also capable of playing up a storm and is very photogenic but, then, with a name like Redford, he would have to be. 333 Talbot St., St. Thomas, 519-633-3788
SERENA
333 Talbot St.,
St. Thomas, On.,
N5P 1B5
519-633-3788
Good morning,
My name is Serena and I am writing to Furry Friends International in hopes that you may assist me in finding the perfect human companion. Let me tell you a little about myself. I am approximately 1 year old (so they tell me. I don't really remember another winter so, it must be true). Technically, I am considered to be a torbi since I have some beautiful, if I do say so myself, orange highlights ( all natural, of course, MOL (meow out loud)). I am friendly, fairly affectionate with the right person and, did I mention that I am very attractive? However, I do have very high expectations of anyone that I go home with. First, I never, ever want to see the big, bad world outside my home, ever again. That is the BIG one !! I will expect to be treated like a valued member of the family and only fed the best food, sleep in the best location in the house and be consulted on each decision that affects me. Oh, and if you happen to have a fireplace, I will expect to be front and centre, without exception. MOL.
In closing, I don't feel that my conditions are too much for most applicants and I will be waiting, anxiously, for any responses. Please contact the above address for an appointment.
The future love of your life,
Serena.

---
Permissions in this forum:
You
cannot
reply to topics in this forum